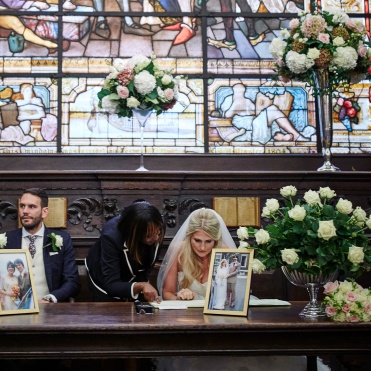 ...how important it is to get every aspect of your day right. We also appreciate that most people have a very distinct idea of what this looks like. Often this means re-creating a certain look or image you have seen and our first goal is to understand your vision so we can ensure your wedding flowers are everything you dreamed they would be.
Once you have made an appointment to see us we can discuss the style of bridal bouquet you would like, how you would like your venue dressed, colour schemes and particular flowers you would like to include. Every wedding has a different budget, but however large or small yours is to be, we will work with you to make sure your flowers are perfect. Make an appointment to see us today.
"We were absolutely delighted with the flowers you arranged for us today for our annual event and visit of our patron Princess Anne. It was so lovely to have the colours of the flowers match our company colours. Thanks for all your help."
College of Emergency Medicine
"Thank you for the beautiful floral displays you kindly arranged and delivered to our event at Kingsway Hall Hotel. Your help in this matter was greatly appreciated and many staff members commented on how beautiful the floral displays were."
A Baron (St Clement Danes School)